In Brief:
Hot dry weather (and elevated fire danger) will be the rule through Wednesday. There will be a slight chance of an isolated severe storm Tuesday and Wednesday afternoon (really isolated). A pattern change brings a return to seasonable weather Thursday into the weekend. Then things remain cool for the weekend with more rain (just in time for Memorial Day).
Update 5/20 9:30am:
A dry line (a convergence of dry/hot air from the west and moist cooler air from the east) will set up near I-25 today. It looks like this line will settle to the east of I-25 by the time an upper level trough arrives this afternoon to kick off the bigger storms (Figure 3 update). Some thunder may be heard west of I-25 but severe conditions are not expected here. It will be windy today with an elevated fire danger. A cold front will enter the state later today further enhancing storms out in the northeast corner of Colorado.
Note, we did break 90F yesterday (DIA hit a record 92F). The thunderstorms that did form yesterday kicked up a lot of wind in the evening with lowered visibilities in blowing dust. We might see strong winds near thunderstorm cells today as well.
End 5/20 9:30am update.
Update 5/19 11am:
From the NWS in Boulder via Twitter
NWS Boulder@NWSBoulder Heads up! Confidence is increasing that dry microbursts will create very strong winds up to 60 mph late this afternoon and evening. Secure loose objects around your house and drive safely especially if you are in a high profile vehicle. #COwx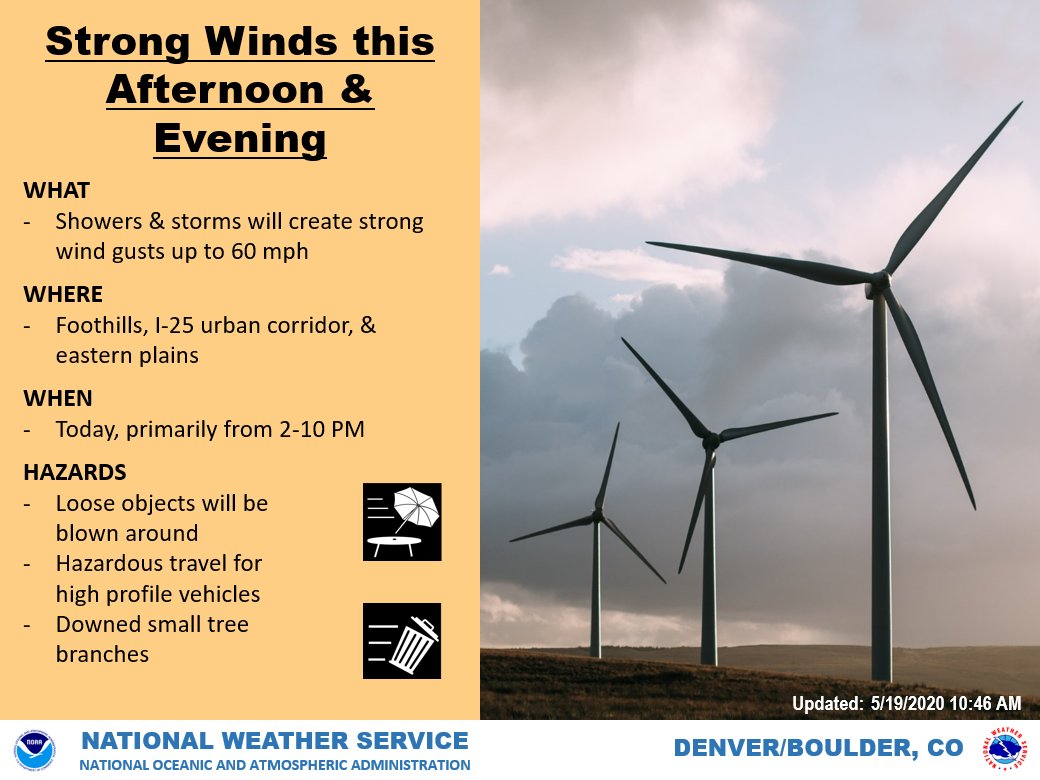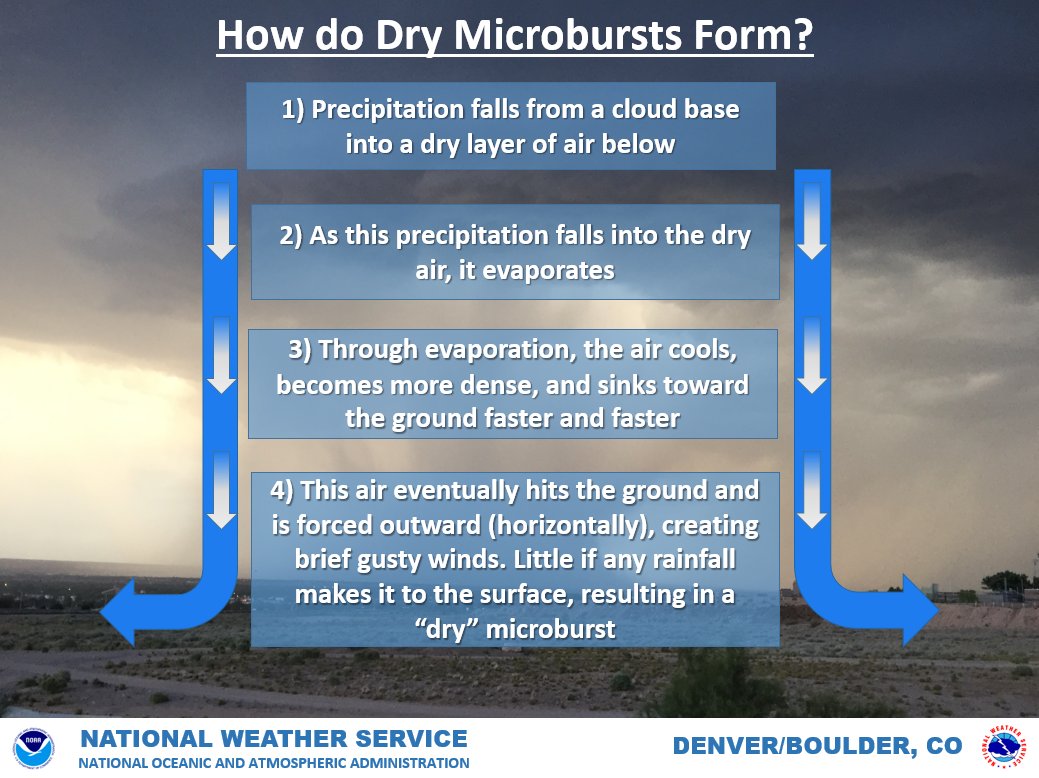 End 5/19 11am update.
Update 5/19 9am:
First, an apology, I just discovered yesterdays forecast discussion sat in the Draft state and didn't go live until just now. Yikes! And there is already an update to it.
There is a Marginal chance (1 on a scale of 1-5) of severe weather this afternoon along and east of I-25. Storms should begin to fire in the mountains around 1-2pm. From the foothills to near I-25, gusty winds, lightning, locally heavy rain and pea sized hail will be seen in a few widely scattered thunderstorms from around 1-3pm. Near I-25 and out onto the eastern plains, stronger winds and larger hail is possible with the (still widely scattered) stronger storms around 3-5pm – Figure 1 update and Figure 2 update. Storms will hit more stable air further out on the plains and will die out this evening (after sunset). Most folks will only see a thunderstorm in the distance as they pass.
End 5/19 9am update.
Forecast Discussion:
A very large ridge is parked over the state Monday-Wednesday taking temperatures very close to 90F (but will it actually break that heat ceiling? – Figure 1). You can see the airflow coming up out of the trough in the west and flowing up and over the ridge then back down under the low in Illinois (Figure 2). This pattern has rain and showers in the western states and in the Ohio Valley and southeastern U.S. but dry weather and mostly clear skies in the Mountain West (Figure 3).
I didn't put the maps here, but the SPC (Storm Prediction Center) paints a Marginal and Slight Risk of severe weather just to our northeast Tuesday and Wednesday afternoon east of Ft. Collins and up into Wyoming. We might see a very isolated storm get strong somewhere around the northern I-25 corridor. There is a very low chance of one of those storms hitting Longmont (Figure 4). Watch for updates (if needed) over the next couple of days.
The Longer Range Forecast:
By Wednesday PM – that the western trough is finally moving eastward. We are on the uphill side of this trough for a while as cooler air moves in (Figure 5). By the weekend, a mean trough is dominating the western half of the U.S. (Figure 6). Because of this deepening trough and its ability to tap some subtropical motion; rain and thunderstorm chances really pick up starting Saturday night. Some thunderstorms (severe in spots?) will be in the area Sunday PM.
Memorial Day forecast:
We will have near normal temperatures Monday with a small chance of rain now and then throughout the day (Figure 4).